Many parts & extrusions have intricate detailed shapes that prevent mechanised polishing; Amien J offer a proven Hand Polishing Service that relies upon traditional craftsmanship.
With 25 years of providing a metal polishing service to domestic and commercial clients in and around Staffordshire, Shropshire and Cheshire, Amian J's Hand Polishing Service is the ideal solution to obtain consistent dull, satin, bright and mirror standard finishes.
Specialists in working with stainless steel Amian J Metal Polishers also have considerable experience of polishing surfaces on brass, aluminium and copper.
Most metal types can be polished to a specified grade including:

Aluminium Metal Polishing
Brass Surface Polishing
Copper Polishing
Stainless Steel Polishing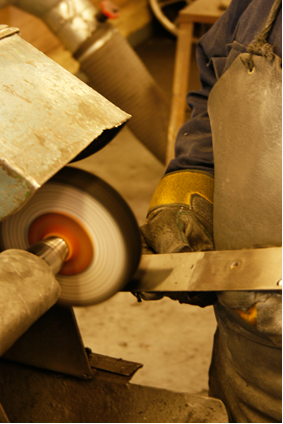 Hand Metal Polishing and de-burring is also ideal for large sheet material and difficult shapes, this provides an ideal solution for hand polishing of parts in vehicle restoration, hand polishing steel sculptures for public art work and architectural steelwork.
Consistent uniform quality is assured through Amian's in-house Ra test process.
For a Quality Metal Polishing Service in Staffordshire and the West Midlands, contact Amian J Metal Polishers of Stoke-on-Trent on 01782 744431.