Amian J are the trusted metal polishing and metal buffing partner for many of Stoke-on-Trent's fabrication and surfacing operations - Consistent high quality, delivered on-time.
Specialists in metal polishing – metal buffing, Amian J produce uniform quality surface finishing ranging from 36 grit to 320 grit, including the popular 180 grit and 240 grit to dull and satin finishes. Metal polishing can also be carried out to bright and mirror standard.
Amian J's mechanised polishing facility is ideal for deburring, punched, nibbled, sheared or laser cut sheet metal parts, with semi automatic mechanised facility for up to 1100mm working width. Amian J's polishing service is ideal for surface scratch removal.

Aluminium & Steel Extrusions
Box Profile & Stainless Steel
Solid Flat Stainless Steel
Solid Round & Square Stainless Steel Bars
Stainless Steel Sheets
Tube, Pipe & Oval Stainless Steel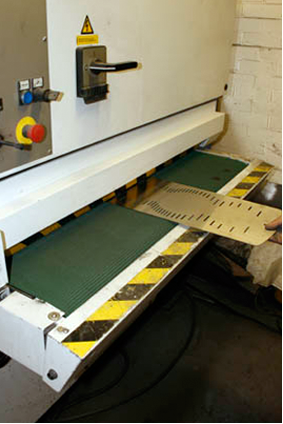 Providing consistent high quality metal finishing is paramount to Amian J – the in-house quality control department is able to work specifically to clients own specifications including optional assessment of the surface texture in accordance with BS 1134 part 1 by utilising in-house Ra test equipment. Amian J can also provide Reflectivity Testing for bright mirror polished surfaces.
For quality metal polishing in Staffordshire and the West Midlands, contact Amian J Metal Polishers of Stoke-on-Trent on 01782 744431.