Amian J Metal Polishers Stoke-on-Trent - 01782 744431
Amian J Metal Polishers are recognised as the leading metal polishers in Stoke-on-Trent offering professional hand and industrial metal polishing to industry.
With a reputation spanning 25 years for high quality metal finishes, the family business of Amian J provide a bespoke metal polishing service to steel fabricators and powder coating facilities across Staffordshire, Cheshire and Shropshire. Call 01782 744431
Most metal types can be polished to a specified grade including:
Aluminium Metal Polishing
Brass Surface Polishing
Copper Polishing
Stainless Steel Polishing
The Stoke-on-Trent workshops are equipped to handle a wide range of metal profiles including:
Aluminium & Steel Extrusions
Box Profile & Stainless Steel
Solid Flat Stainless Steel
Solid Round & Square Stainless Steel Bars
Stainless Steel Sheets
Tube, Pipe & Oval Stainless Steel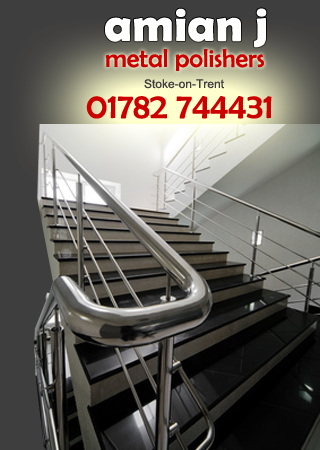 The metal polishing service offered by Amian J is used by industry and restoration enthusiasts to enhance the surface finish. Amian J work can be found in architectural steelwork, car parts and many domestic products.
For a Prompt and Efficient Metal Polishing Service – call Amian J Metal Polishers of Stoke-on-Trent, Professional Metal Polish Finishers.
We have used Amian J for over 10 years for all our metal finishing. Product is returned to us each week on time with a perfect finish.
George, Fabricators Crewe
As specialist stainless steel fabricators we need a metal finisher that enhancers our own work, Amian J always provide excellent results
Jeremy, Stafford
Large and small intricate items are polished for us every month exclusively by Amian J. As fabricators we know we can rely on them for quality finishes.
Anita, Nantwich